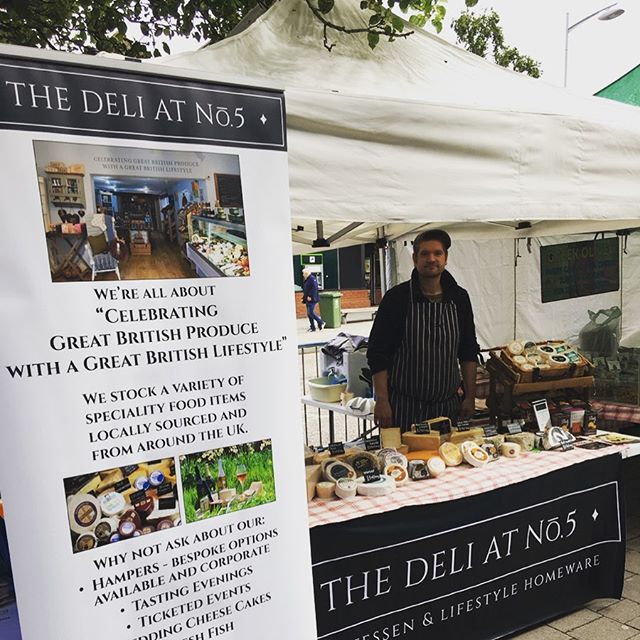 The Deli at No.5
In the Street food market around the town hall
Serving up British artisan cheese toasties to eat on the day, alongside a range of delicious British cheeses, deli items and homemade wares to take home
The Deli at No.5 was set up in 2016 and is run by husband wife team – Joe and Hannah – who have a true passion for local British produce that they want to share with you. Over the years they have travelled all over the UK looking for the very best in Great British produce to bring to their online store.
The Deli at No.5 loves to 'Celebrate Great British Produce with a Great British Lifestyle'. The British Isles has some of the very best produce in the world from meat, fish, alcohol, cheeses and so much more – at The Deli at No.5 you can experience it all through a variety of different avenues:
online: visit their online store where you can buy a wide array of Great British gifts and hampers from around the UK
through their weekly delivery service in Oxfordshire and Buckinghamshire where you can have everything they offer delivered right to your door
at a local market
through a tasting event where they offer a unique range of tastings from Cheese & Wine to Beer & Charcuterie. Or create your own bespoke tasting event, enjoying an evening with friends and family to celebrate something special
The business was based in the Butter Market in Thame for 4 years, but in 2020 they took the decision to reach a wider audience by moving their shop online and working face to face at local markets. They sell homemade chutney, sauces and jams, alongside homemade cheese and cheese products (e.g. cheese straws), and a range of other local cheeses.